I am officially counting down, and as of today its 33 sweeps till I move..
Today was finally Friday, felt like the longest week even though I had a short working week..
Today my boss and I trotted off to a lunchtime 30 days of fashion event, held by priceline.
It was brilliant fun, we had our hair and make-up done and heard about the up-coming trends for this season.
Beautiful Alexa Chung the face of this years festival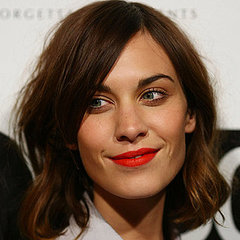 What a fabulous lipstick look Alexa wore at the official launch party of 30 Days of Fashion and Beauty in Sydney. Its bright and punchy but gives her look a polished feel. it
Do you love the look the girls gave me..
My hair is in a high teased messy plait bun
They out my hair in a high pony tail
lightly teased the hair
plaited it VERY loosely
then tucked the ends up near the rubber band
then randomly pin sections to create a volumous bun
The colours in my hair really stood out with this do
The makeup was pretty basic, but the eyes was a smoky gold look, very daytime but nice..
Thankyou priceline angels
Look at the contents of our goodie bag..
Im so excited, Ill have heaps of little bits and pieces to take with my to Auckland...
And a voucher for a full 30 min make-up session...
Im on the couch tonight watching the rugby and drinking wine..
Life is good