I wish I had known that you can wear maternity bras when pregnant! I assumed (naively) that they were for breast feeding mummies and not for pregnant boosies!! How wrong I was! I struggled through my first pregnancy wearing underwire bras and literally ripping them off the min I walked in the door of my house. They were digging in, ill fitting and doing me damage and I had no idea there was any alternative to this pain.
My top five maternity bras
Cadenshae Fit2Feed Activewear Striped Bra $59.99
Yummy Mummy
I've got a very special Q&A with the amazing Rob from Yummy Mummy coming up this week with loads of awesome advice on Maternity wear, you wont want to miss it!!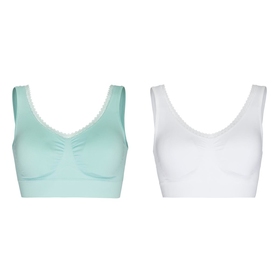 Wire Free and; Seamfree Padded Crop Bra - Set of 2 $15, Kmart
Formfit Wire free maternity bra, Big W (not available online) $28
(This is the one I am wearing in the pic of me and the bump )
Maternity contour bra $39.95, Bonds
Currently Buy x2 and get 30% off on the
Bonds site
Everyday maternity contour bra $95, Intimo
Best bit about buying an intimo bra,
The luxury of your own bra fit specialist coming to your home when it suits your schedule for a personal fitting, style viewing and selection.
Stay tuned for more about the intimo experience....